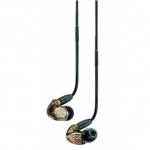 We just reviewed Shure's new baby, their top of the line SE535 in-ear headphones. The SE535 replace the glorious SE530 that brought us so many hours of listening pleasure.
With the new SE535, Shure is improving an already fantastic pair of headphones. The new Shure SE535 are simply breathtaking.
Come read our Shure SE535 review. Click here.