On Ear headphones are the classic type of headphones, with a pair of cans that sit on top of your ears and a headband. Many people won't feel comfortable with wearing headphones right inside their ear canals. That's where portable on ear headphones come in.
Several models of on ear headphones feature a reduced size, and are suitable for portable players such as the iPhone and the iPod.
These are the best on ear headphones that I recommend.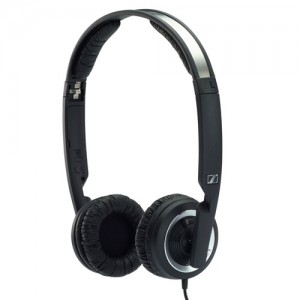 The Sennheiser PX200-II are a great pair of portable headphones, with a closed on-ear design. If you are not comfortable with a pair of in-ear headphones that insert into your ear canal, you may prefer a more traditional on-ear type of headphones such as these.
The PX200-II will give you great sound quality. Being closed around the ear they will provide you with some isolation from external noise, even though not as much as in-ear headphones. A cool folding mechanism will allow you to carry them around easily.
More On Ear Headphones