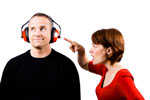 A new pair of headphones is without doubt the best upgrade you can have for your iPhone or iPod.
For our recommendations on which headphones you may want to buy, click here.
Headphones are not just another tool to listen to music. Coupled with your iPhone, or with your iPod, a great pair of headphones opens a new world of possibilities.
Here are a few of these.
1. Listen to music
It goes without saying. With a high quality pair of headphones you get a listening experience like no other. You really immerse yourself into an uncontaminated world of music.
The new types of sound isolating in-ear headphones really do a great job at isolating you from external noise, allowing you to enjoy music in total piece.
2. Take phone calls hands free
If you've got an iPhone you can pair it with a headset, which is just a set of headphones with a mic.
Take phone calls leaving your iPhone in your pocket. This is efficient and relaxing, as you don't need to go rush for your iPhone when it rings, and if you are having a long call, keeping your arm raised to hold your iPhone to your ear can be tiring.Headsets also help with reducing safety risks from cell phones, as you don't have to take your radio emitting iPhone close to your brain during calls. Headsets can be either wired or wireless, using Bluetooth technology.
3. VoiceControl your iPhone 3GS
If you have a headset and an iPhone 3GS, you can keep the VoiceControl feature on.
Dial away at someone just by pronouncing their name or phone number, without even touching your iPhone. You can also pronounce iPod commands, such as starting and stopping playback of a music track, among others.
4. VoiceOver with your iPod or iPhone 3GS
VoiceOver is a great new feature of iPod Shuffle 3rd generation, iPod Nano 5th generation and iPhone 3GS. With VoiceOver the device will tell you the name of a track, or a playlist, that is being played using a computer voice.
Never again wonder what song are you listening to. Just ask your iPod to tell you, without even interrupting music.
5. Have a noiseless plane trip
Long plane trips can be tiring. You may not realize, but one of the most important elements contributing to plane trip fatigue is the constant loud noise from the plane.
Just wear a nice pair of noise cancelling headphones, and plane noise will be instantly distant, allowing you to rest or to work undisturbed during your trip.
6. Avoid answering phone, as "you can't hear it"
A shared office phone line can be a bit of a nightmare. How many times a day are you going to answer the phone for a colleague, only to pass them on the call?
Just get your pair of headphones on, some loudish music, and they won't even bother to disturb you...unless the call is actually for you!
7. Take voice notes
Taking voice notes is a great way to capture thoughts and ideas whenever they rain on you. But you must be quick at catching them, otherwise you'll quickly forget, and they'll be gone forever.
Keeping a headset on and ready to record on your iPhone, is a great way to capture quick notes without even interrupting whatever else you were doing. Apple Voice Memos is good for some light note taking, and Evernote is simply great.
8. Avoid being interrupted
Whatever it is that you are doing. Interruptions are the best way to accomplish nothing. Nonetheless being constantly interrupted by everyone is often the norm. A recent study shows that people trying to perform some intellectual activity, like work, while being interrupted by phone calls, e-mails and colleagues questions and chatter, are capable of executing their work even less efficiently than people under the effects of marijuana.
Wear a pair of headphones, and almost magically gain an aura of respect from people around you. You don't even need to be listening to music. Just wear them, and they'll be immediately intimidated. They'll dare to disturb you only when something is really needed from you and important.
9. Have a good sleep even where it's noisy
Active Noise Cancelling headphones are a technological marvel. And they're not just for listening to music. You can just wear them without music, and you'll suddenly fall into a limbo where the external world is far away, with all noises very distant. Isn't that a great way to have a good sleep?
Have a snoring partner? Just noise reduce them!
Read more about Active Noise Cancelling headphones here.
More Info
These are only some ideas among all the cool things that you can do with your iPhone or iPod and a good pair of headphones.
Just do yourself a favor, and upgrade from iPhone's sub-standard default headphones. They're not worth it.
Be sure to visit  best headphones, and read about the headphones I recommend.
Looking for Headphones?