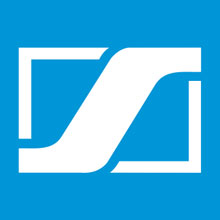 An Apple (iPhone) a day keeps the doctor away...and Sennheiser had been missing in action for way too long in the game of Apple friendly headphones.
This time it really looks like they decided to fix the issue for good, by releasing not one, not two...but seven (7!) new Apple friendly headphones.
Each of the headphones in this army is actually the repurposing of an already existing model in Sennheiser product line, by adding the famous official Apple 3 button remote.
This small cable remote includes a mic, volume up/down buttons, and track play/pause/skip buttons. It allows to answer phone calls while pausing audio playback, and it is capable to fully take advantage of the latest iPhone and iPod playback related features such as VoiceOver and VoiceControl.

The high end in-ear IE8i
Based on the IE8, Sennheiser's flagship in-ear headphones model. The new IE8i is a no compromise type of in-ear headphones targeted at the audiophile. It offers state of the art sound quality goodness, and, like most audiophile level headphones, is expensive, with a MSRP of $599.95.
The iPhone Earbuds, Sennheiser Style: MM70 iP
The new MM70 iP (MSRP $129.95) are not based on a previous non-i model. The closest previous model would be the MM50 iP, that featured a remote, although not the official Apple 3-button one.
This is a set of high quality earbuds. The MM70 iP, while technically are in-ear headphones, do not insert into the ear canal as deeply as most other models. This could be an interesting feature for those users that are not comfortable with in-ear canal headphones, and still don't want to give up on quality.
In-Ear Elegance. Sennheiser CX880i
The new CX880i (MSRP $140), are based on the existing Sennheiser CX880, adding the Apple 3-button remote. The theme behind these headphones is elegance. Designed in collaboration with BMW, these in-ear headphones offer good sound quality, as well as a very elegant build.
On-Ear Portability. Sennheiser PX100-IIi, PX200-IIi
Sennheiser PX100-II and PX200-II on which these two new models are based, are a true classic. The new PX100-IIi (MSRP $119.95) is the over-ear open version, and the new PX200-IIi (MSRP $139.95) is the around-ear closed version. They are lightweight, have great sound quality, and feature a cool folding mechanism for added portability.
Full-size-like portability. HD218i and HD238i
The new HD218i (MSRP $99.95) and HD238i (MSRP $169.95), based on Sennheiser HD218 and HD238, are bigger, although still portable. They're closer to full size headphones, and offer some earpiece cushioning. The HD218i is closed around the ear, while the HD238i is the open version.
According to Sennheiser, all these new headphones are available now!
Did you like this article?
Spread the love!
If you have a blog, let your readers know about this article. Its simple! Just link to this permalink here from your blog.